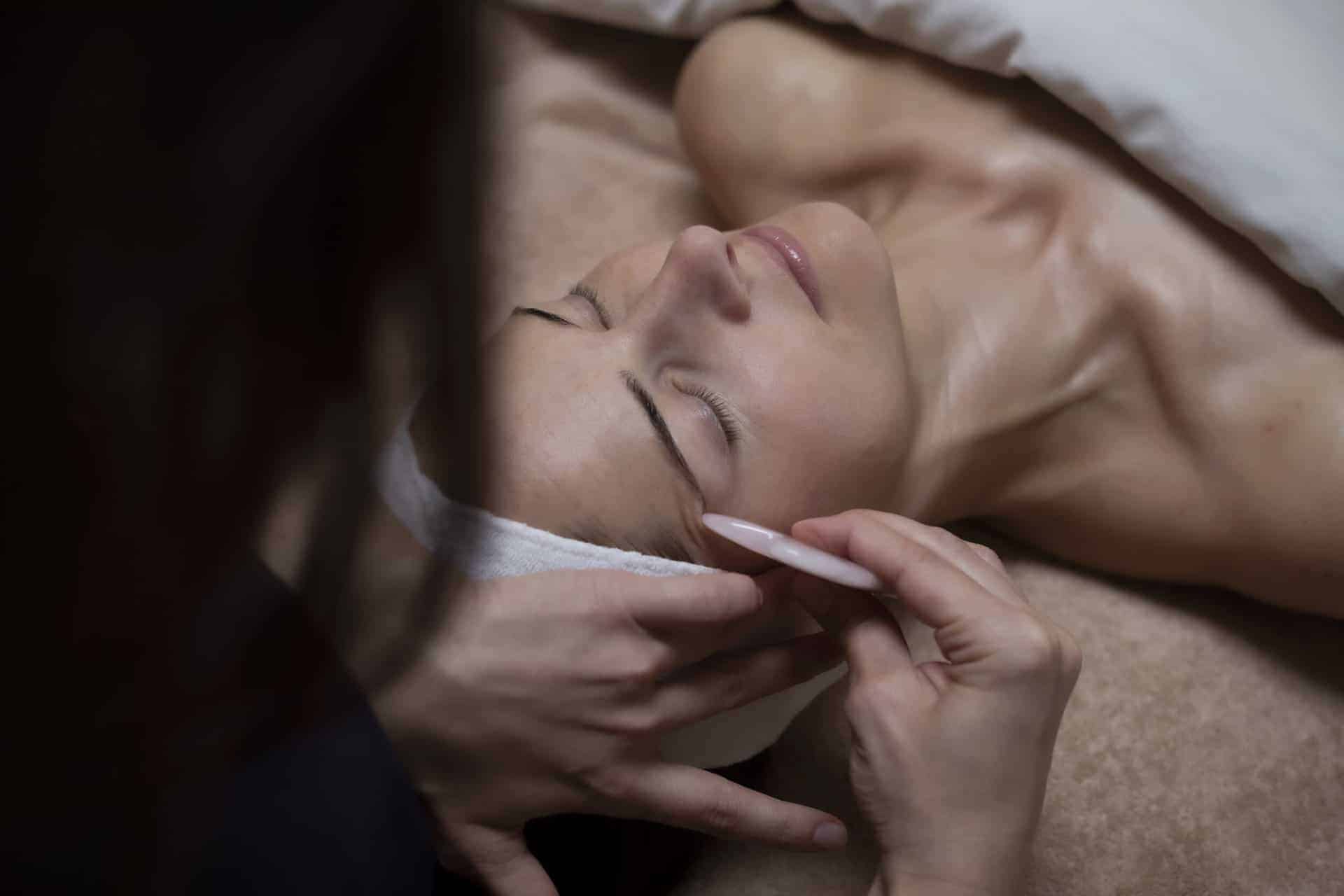 Here at Gazelli, we've always believed in a bespoke, 360-degree approach to wellbeing. We're known for individually designed face and body treatments that start with a unique 7-step diagnostic consultation to ensure we craft a treatment programme that is just right for you. Our bespoke treatments remain at the heart of our offer here at Gazelli House, our wellness space in South Kensington, London, but after many months in development we're pleased to share with you our carefully curated edit of targeted treatments to nurture mind, body, skin and spirit. We caught up with our team to find out about their favourite treatments from our new menu.
Alexandra, head of wellbeing
I haven't been able to stop talking about our new Alternative to Botox Facial – it really makes you feel like a 'new you'. It uses a beautiful fusion of the most effective non-invasive technologies, including Radio Frequency with Vacuum Suction, Oxygen Therapy and Cryoglobes along with the most advanced formulations. The Cryoglobes really lift the jaw line and cheeks and the end result is absolutely astonishing.
Harriet, front of house
A Therapeutic Massage from our body expert Illona with her truly magic hands has to be my favourite treatment. She's the only person who has been able to stop my neck from hurting. As well as Illona's magic touch, the treatment uses NASA technologies, infrared and ultrasound, to loosen deep muscle aches and pains. I always leave feeling energised and I love the way Illona gives personal tips to take away which have helped me to improve my posture.
Jamila, co-founder and creative director
For me, the Gazelli Zen Facial epitomises what we are about here at Gazelli. It's a treatment I'm really proud of which works holistically to achieve glowing results. It combines a gut massage with healing energy work and intuitive sound to help you re-balance and unwind while we sculpt and lift the complexion using the very best hands-on techniques and a rose quartz Gua Sha.
Sally, head of communications
I'm often riddled with knots and tension so when I go for a massage I want the treatment to get right to the point and make a real difference. The new Therapeutic Massage really delivers – Illona knows how to get the pressure of the massage just right and along with the amazing NASA technologies she can work through even the toughest knots and tension.
Naomi, visual merchandising executive
I always feel so relaxed and have such a good night's sleep after a Sensory Massage. Illona always knows best and intuitively senses the areas that need to be taken care of so it feels like the tensions are just melting away.
Ilaria, front of house
For quick results, I love the 30-minute Energising Booster Facial. It's such a relaxing experience and I really love the feeling of the rose quartz Gua Sha, which helps to relieve any tension as it sculpts and lifts the face. Afterwards you can really see the difference in the skin – it looks uplifted, more glowing and smoother.
You can discover our full new treatment menu here. Stop by the house before 30 January and wish upon a star for your chance to WIN a full Bespoke Face or Body Programme worth £600.