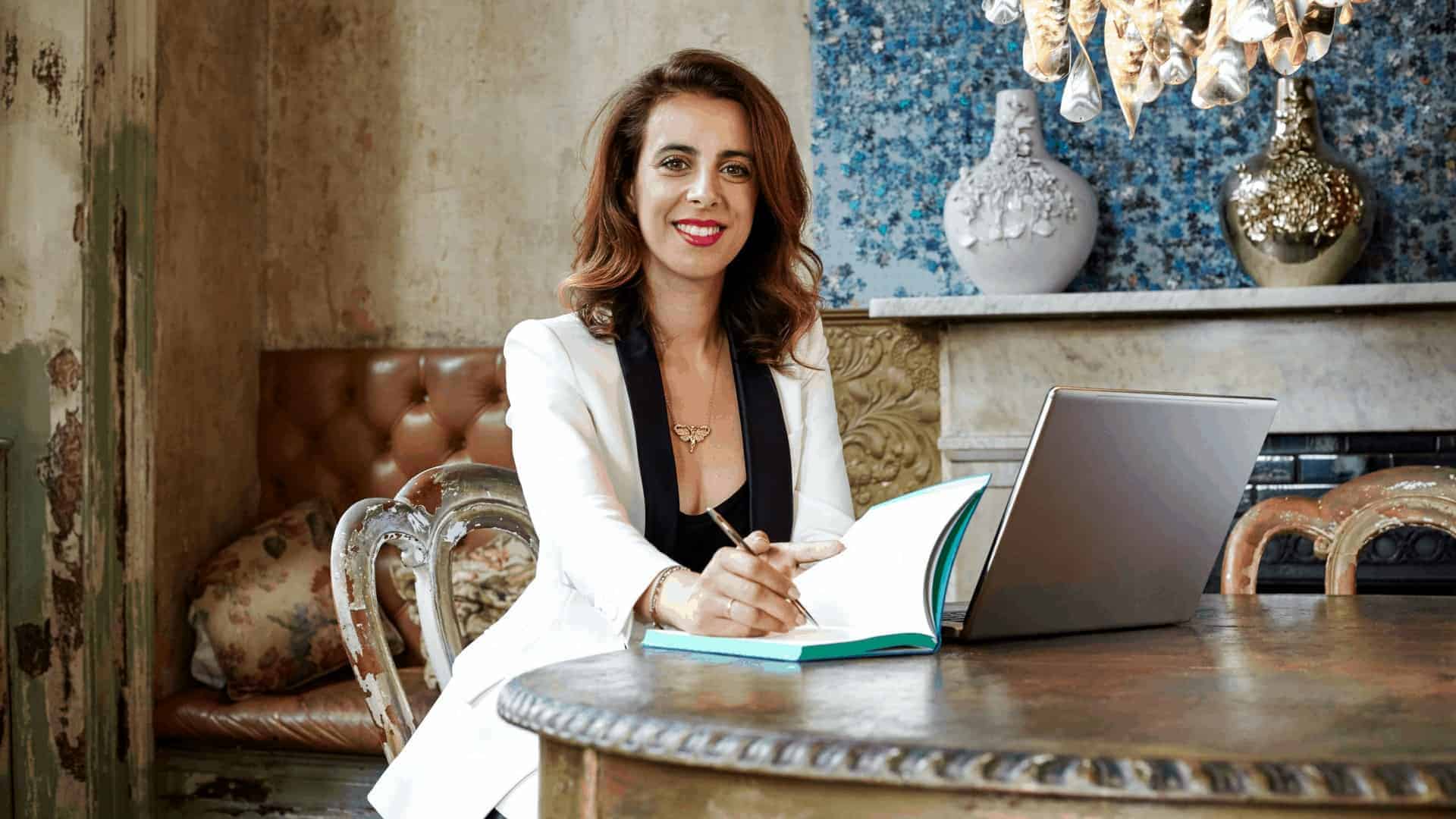 Here at Gazelli House, we think there is something very special about putting pen to paper, so we immediately fell for Rama Publishing's notebooks and Daily Review Planner as a way both to express our dreams and to make the most of our time.
Rama – a stationery and lifestyle brand based in London – was founded by Rachida Benamar. Rachida believes strongly that you should follow your passions and Rama's stationery uses touches of gold and luxury to embody the idea that expressing your goals, ambitions and desires on paper has intrinsic importance and value. We also love the inspirational quotes that adorn Rama's prints and the Daily Review Planner!
Rachida was born and raised in France, but has always been strongly influenced by her Arabic heritage. She has lived most of her adult life in London, and Rama Publishing was created in part to celebrate the wonderful inclusivity of our unique city. We caught up with her to find out more.
What inspired you to create your brand?
I have always believed that there is something sacred and timeless about a pen and paper. It's a magic that a laptop will never match. I have a deep love for paper and pen as well as for people and I wanted to create products that help people in their daily lives to attain their goals and dreams. The overall design is inspired by my Arabic roots, with the protective eye at the centre of our logo.
What do you hope people might feel when they use your products?
I hope people recognise that we have put a lot of love and thought into each of our products. I handpicked every quote on the pages of our Daily Review Planner myself, as well as those on our prints – my products are my babies! I use our notebooks every day at home and my walls are covered in our prints.
I want people to recognise that we are surrounded by magic – if only we can stop for a moment to see it. There is also a magic involved in writing down your goals, so I hope our Daily Review Planner can help people to create that habit of committing their dreams to paper. I also want people to feel special and our products really do add a touch of magic to your life.
Your Daily Review Planner helps people to cope with their busy lives. But what do you do when everything feels too much?
I run two businesses – a career consultancy and Rama Publishing, my stationery business. My day can quickly get overwhelming, so when I feel it is all getting too much I switch off my phone notifications, drop what I am currently doing and go for a long walk. I usually listen to music as I walk and this never fails to relax me. It is incredible what a bit of fresh air and exercise can do for your mental wellbeing.
How did you feel when your first walked into Gazelli House?
The first time I walked into Gazelli House, I was mesmerised! The energy was magical. I'm a huge believer in the idea that some places have a positive energy that makes you feel instantly at ease, and for me, Gazelli House has that kind of energy. I love interior design and I always pay attention to detail, so it was wonderful to see all the beautiful little touches. Plus I'm something of a café addict, and the café at Gazelli House is amazing.
Tell us about your typical day before 9am.
My day starts usually at 7am. As soon as I wake up I make myself a cup of tea with a teaspoon of honey. I then have pitta bread with almond butter. I never skip breakfast – it gives me the energy I need to tackle my day.
I used to check my phone first thing because I would always feel anxious. But for the past few weeks I've been charging my phone in another room so I'm not disturbed by buzzing notifications. I take a look at my top three priorities and the quote of the day in my Daily Review Planner and check my meetings in my diary. Working from home is too quiet for me so I use a cool working space in central London – I need a bit of buzz to stay focused!
What mantra do you live by?
The mantra I live by is: "The more you give, the more you receive." My parents taught me from a young age that no one has ever become poor by giving and I strongly believe in this.
We're pleased to include Rama Publishing in the carefully curated edit of wellbeing products available at Gazelli House, our wellness space in South Kensington. Gazelli House is a short walk from King's Road, Chelsea, South Kensington station and Knightsbridge. You can browse our collection of wellbeing products and enjoy a cup of tea in our tearoom or shop online here. You can find us at 174 Walton Street, SW3 2JL.