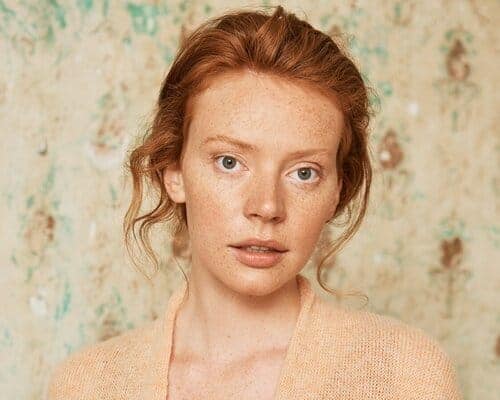 When Deborah had to pause her modelling career because of bodily exhaustion, she turned to Ayurveda to get her back on track. Deborah dived deep into Ayurvedic studies and became an Ayurvedic mentor to models at the start of their careers and others through her digital platform, It's Mother Earth. Deborah is joining us at Gazelli House on Saturday 14 March for 'Face Mapping & Marma Points with Ayurveda'. We chatted to Deborah to find out more.
How did you discover Ayurveda?
It was in 2016, when I found myself in a physical breakdown. I had lived most of my life focused on burning off what I ate and choosing my nutrition to stay slim. This had proved effective for me as a full-time model in the fashion industry – it kept my measurements intact, and my goals were all I cared for. Pretty self-centred? Certainly I didn't regard my body as a team player. But at one point my body refused to work under these conditions, resulting in a physical breakdown. So I was reminded that body and mind are connected, that my low energy levels didn't come from my body alone – my mind was blue too. I went to Australia to get back to my old self in the sun. Except… I never got back to my old physical self. Instead, I discovered the Pinnacle Clinic, a holistic centre that worked with Ayurveda and other therapies. I got hooked, looked for more in India, and have been learning ever since.
How did Ayurveda change your life?
When I say I never got back to my old physical self, I'm talking mainly about the hormonal balance I gained from Ayurvedic medicine. Once I understood the five elements, then the ways they are manifest in both body and soul and how to balance them – both within our planet and within our body as a little planet in itself – made so much sense to me. It's all interconnected: I really adopted this statement and applied it to everything including my spiritual, social and work life. It caused a little break in my career, for the 'new space' I allowed in my body (read: different measurements). But only so I could break through after. Ayurveda has reunited me with my essence and helped me to keep balanced, regardless of the circumstances – by allowing my body to be my number 1 team player.
Tell us about the 'Face Mapping & Marma Points' workshop at Gazelli House on 14 March
The Marma Points are the part of the Ayurvedic Studies I had looked forward to for a long time as I was studying. They say it takes a lifetime to master all the 108 points so I decided to focus first on the face – nice and close to hormonal 'cockpits' like the pituitary and pineal glands. According to my favourite Ayurvedic doctor, Vasant Lad, 'Marma Points were called bindu – a dot, secret dot or mystic point. Like a door or pathway, activating a Marma point opens into the inner pharmacy of the body.' At Gazelli House I'll take you on a journey through the part of that inner pharmacy that lies right beneath the surface of the head piece of your body: the face. You'll learn how to engage with these points on a daily basis through your skincare routine to achieve better circulation, increased water and oxygen levels, optimised absorption of the ingredients in your skincare products and a daily dose of repair and rejuvenation – while restoring the energy levels of the organs that correspond to the revealed Marma Points.
How has practising Ayurveda changed the way you look after your own skin?
When I was little and struggling with so-called 'Irritable Bowel Syndrome', I discovered that pressing a certain point on the soles of my feet relieved the pain. Ayurveda brought this concept to life for me. Like our feet, our face is connected to all of our bodily functions and organs. In fact, it's covered with our biggest organ: the skin. Like our bowels and lungs, the skin mediates between our inner world and the outer world. In order to keep it healthy, we've got to keep our inner world healthy, so skincare has become much more internal for me. Improving the health of my organs with herbs and nutrition to improve the health of my skin is Silver. Maintaining peace of mind and practicing meditation is Gold.
What's the one thing you wish you could tell your younger self?
'Don't rush, you'll always be your younger self. Preferably that version of yourself you were before doubt started whispering in your left ear.' Or, in an Ayurvedic voice, something like: 'Don't ever forget who you are. A human's denial of divinity and infinite potential is the cause of all suffering.'
How do you balance work and wellbeing?
By taking my meals and my breath seriously. It sounds so simple, but you'll be surprised at the level of dedication this takes.
What's your typical day before 9am?
Little revelation: I'm four months pregnant! So over the last few months I would preferably spend this time slowly waking up to ginger tea and a frankincense aroma in the diffuser while catching up with things I was supposed to finish the evening before. My biggest take from this so far has been to surrender to what my best buddy, a.k.a. my body, needs from me, now. However, if you had asked me this question a few months ago, I'd have told you I like to put my alarm on for 6am to wake up before my phone does. To Apple Bedtime Bird chirps, haha. They sound just like the birds in the Himalayas! I would get up and clean my mouth, do my yoga practice (or at least half of it), self-massage or Abhyanga with jojoba oil, frankincense and myrrh or any mix that would best suit my skin, cook a warm Vata soothing breakfast and then get to work or leave the door to study in a café – I love to be around people in the morning.
What mantra do you live by?
Don't worry about plan B, there's only plan A.
You can find out more about Deborah's workshop and book tickets here.
The Gazelli House wellness space, at 174 Walton Street SW3 2JL, is a short walk from King's Road, Chelsea, South Kensington station and Knightsbridge.