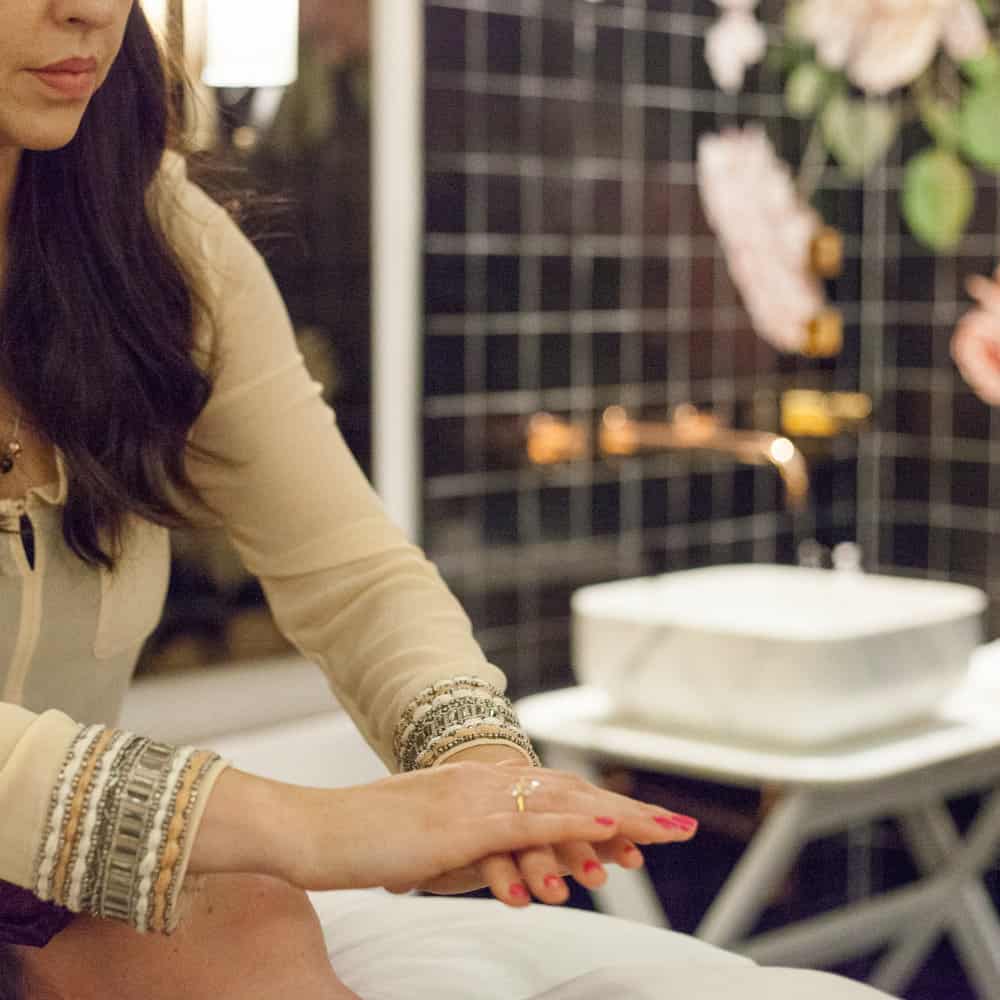 We're feeling very proud here at Gazelli House as our Reiki Master Jasmin Harsono's debut book Self Reiki has just been published. Jasmin, who offers one-to-one Reiki and Sound Healing at Gazelli House, will be hosting an intimate and exclusive evening here to celebrate the launch of her book on Tuesday 25 February. This special evening will include a group Reiki meditation and included in the ticket price is a copy of Self Reiki which Jasmin will sign on the night. We spoke to Jasmin to find out more about Self Reiki:
Tell us about your new book, Self Reiki?
Self Reiki is a practical guidebook that offers a brief insight into what Reiki is and its history as well as guiding us through 40 health and wellbeing exercises. DK Publishing was interested in one of the five elements in the system of Reiki – 'healing hands'.
The ability to self-heal is part of all of us – we are all part of 'universal energy', aka 'Reiki'. To heal with the use of touch and our hands, healing with energy, is ancient medicine, existing long before western medicine.
The book focuses on how we can better serve ourselves – mind, body and soul – by using these mindful exercises and techniques in our everyday lives.
Who is Self Reiki for?
It is for everyone – for the curious, for those devoted to Reiki daily practice, and for anyone in between.
Do you have a favourite technique from the book to help you get over the winter blues?
The Manifestation Ritual is great for the start of a new year and decade! This is an exercise that takes preparation and time to create but I have included it because it is one of my favourite ways to create an abundant flow of life and set new intentions.
The start of the year can bring up all sorts of emotions and memories that leave us feeling unbalanced, so the Grounding meditation is great to practise on a daily basis to feel more centred and focused.
What impact has practising self-Reiki had on your own life?
Learning the system of Reiki has been life-changing and has helped me in all areas of my life. It has increased my overall health and wellbeing and deepened my meditation practice, which ultimately has brought me home to my true self. As a result, I now appreciate the beauty of life, nature, all living things and spirit.
Tickets for Jasmin's group Reiki mediation on 25 February have just gone on sale – you can find out more and book here. Spaces are limited so early booking is recommended.