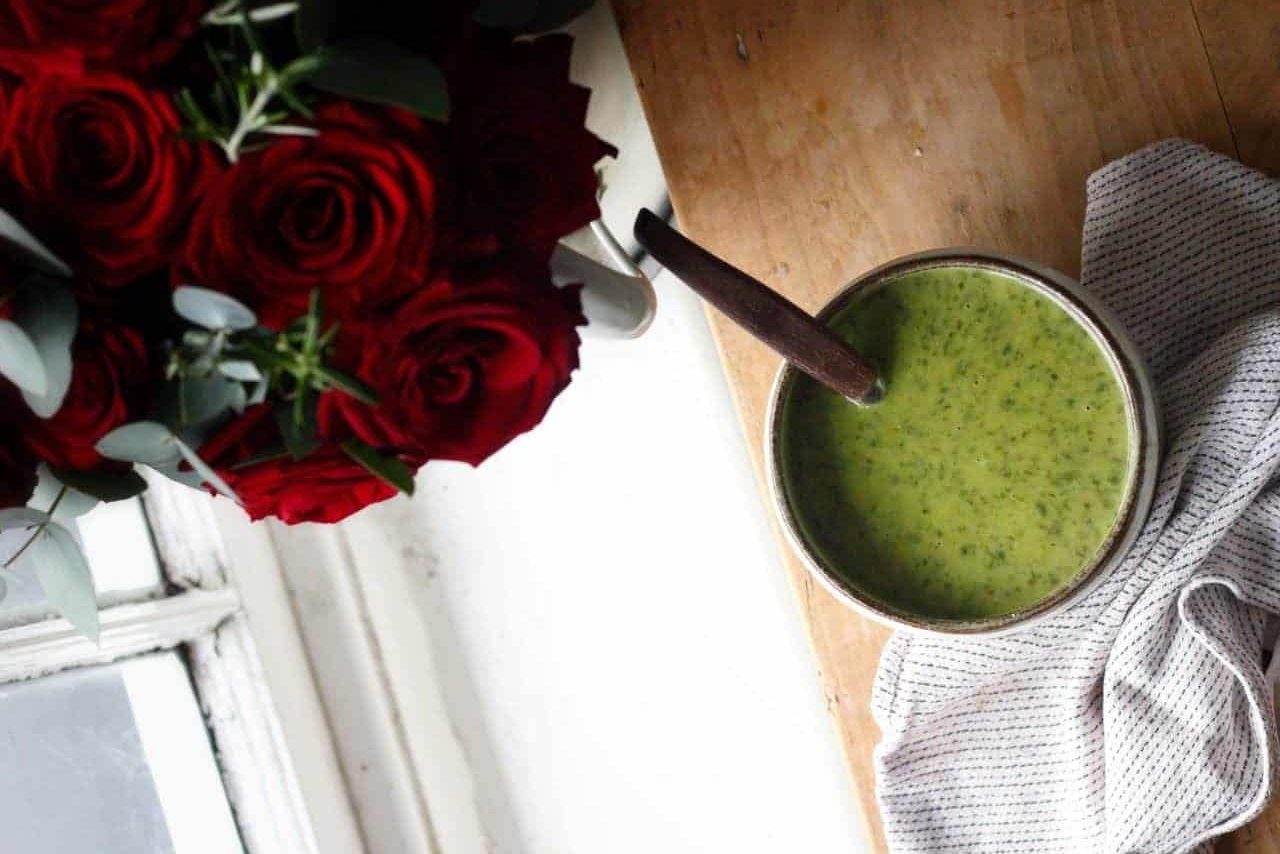 Wild Garlic Soup
The whole preparation of this special soup is one that is not only delicious but mindful and calming. During the early Spring, wild garlic can be found throughout the countryside in darker, damp woodlands, though it can also be found in city cemeteries and wooded parks – you simply have to follow your nose and look for dark green, sword-shaped leaves. In doubt? Snap a piece off and have a sniff. It decidedly smells strongly of garlic and nothing else. The very act of hunting for this limited bounty of nature is soothing and one that all can partake in. Take just enough for yourselves, and leave the rest to other intrepid hunters. It can also be found in good fruit and veg shops and markets. Either way, once you have some, get ready for the quick and easy process that will fill your kitchen with a wonderful scent, and your stomach with a warm, satisfying feeling.
Benefits of Wild Garlic
Antibacterial

Antibiotic

Antiviral

Vitamins: A, C

Minerals: Calcium, Copper, Iron, Phosphorous, Sodium

Evidence: Reduces blood pressure
A Note from Sue Camp, our resident Nutritionist
Many studies have shown garlic to be effective against a number of different bacteria. Interestingly it has also been documented that garlic exerts a differential inhibition between beneficial intestinal microflora and potentially harmful enterobacteria. This antibacterial activity of garlic is widely attributed to allicin.
Further research has shown garlic to be effective against protozoa and fungi (yeasts); there is also evidence of antiviral properties.
And it doesn't stop there. Garlic also has beneficial effects with regards to inhibiting the inflammatory response, increasing antioxidant activity as well as exerting protective effects on the cardiovascular system, anti-cancer activity and diabetes.
Eat one or two cloves of raw garlic daily. It is effective in fighting colds, flus, and viruses and can help to strengthen your immunity. Garlic can be juiced with vegetables for a powerful immune drink, or you can add it to soups, tomato salsa, salad dressings or minced raw atop sweet potatoes or steamed vegetables.
Duration: 40 mins
Serves: Two hearty bowls
Ingredients
Knob of butter, or splash of oil
1 finely sliced shallot
1 bay leaf
2 sticks of celery, chopped
1/2 tsp fennel seeds
3 potatoes, diced
Stock to cover – chicken or veg
3 large handfuls of wild garlic
Method
Melt butter or oil over a medium heat

Saute bay leaf and shallot for two minutes

Add celery, saute for further few minutes until softening

Add fennel seeds and saute until fragrant

Add potatoes and stir thoroughly

Cover with stock and bring to boil

Lower to a simmer and cook until potatoes are soft

Add wild garlic stems and simmer for a couple of minutes

Add remaining wild garlic leaves and blend until smooth

Season to taste
To find out more about nutrition, visit our Sue Camp practitioner page for contact details.