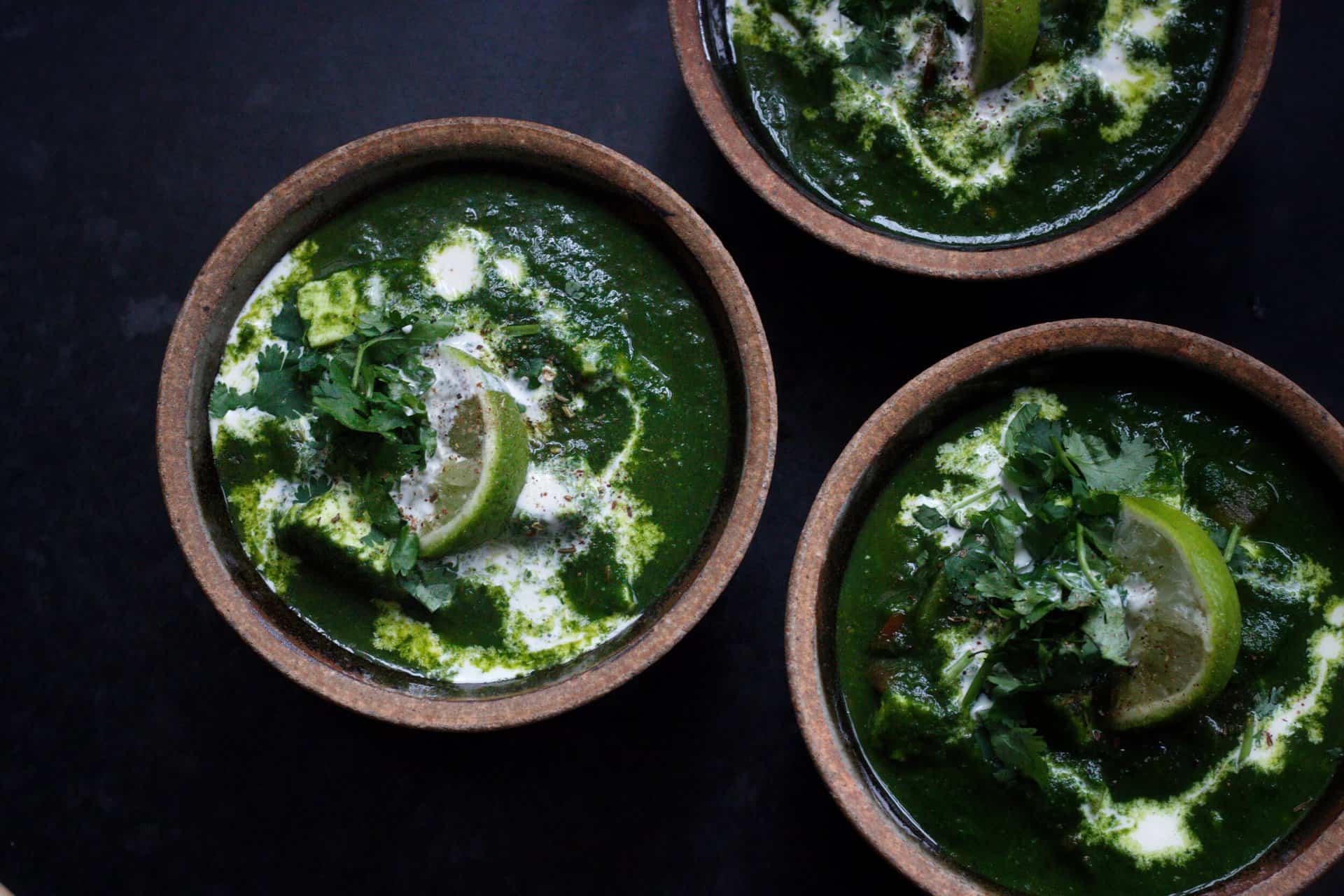 Palak is the Hindi word for spinach and, in this recipe, plays a starring role creating a stunning emerald-green curry that is remarkably simple to make. This dish can easily segway into a vegan version if the paneer is replaced with tofu and the butter/cream omitted. Either way, the result is rich, warming and a real pleasure to look at. The spinach must be blanched to retain its gorgeous colour, especially if you'd like it for leftovers the next day, although we doubt you'll be able to resist the whole pan.
Benefits of Ingredients:
Spinach:  Vitamins A, C and K, magnesium, iron and manganese.

Garlic: Anti-carcinogen, antifungal, boosts immunity, anti-inflammatory

Ginger: Treats nausea, aids digestions, fights common cold, flu and infections

Cumin: Promotes digestion, is a rich source of iron, may improve cholesterol, diabetes and weight loss

Turmeric: A potent anti-inflammatory, may improve depression, arthritis and Alzeheimer's
Ingredients:
For the sauce
250g fresh spinach

1 or 2 fresh green chilli, chopped

2 garlic cloves

1/2 inch of ginger, roughly chopped

1 vegetable stock cube

Saucepan of boiling water

Bowl of ice water
Other ingredients
2 tbsp butter or ghee

1 medium onion, finely chopped

1 medium tomato, finely chopped

4 garlic cloves, finely chopped

1/2 tsp cumin seeds

1/4 tsp turmeric powder

1/2 tsp chilli powder

1/2 tsp garam masala

1 bay leaf

250g paneer cheese

1 tsp dried methi leaf (fenugreek)

Lime wedges, cream and coriander to serve
Method:
Blanch spinach leaves in boiling water for one minute (reserve some water for later)

Plunge into a bowl of ice water

Drain and blend to a smooth paste with garlic, ginger, chilli and stock cube

Set aside

Lightly brown the onions with bay leaf and cumin seeds in a pan over a medium heat in the butter or ghee

Add the garlic and cook for a minute or two without browning

Add chopped tomatoes and saute until softened

Add turmeric and chilli powder

Stir thoroughly before adding the spinach puree and adding reserved water to preferred consistency

Simmer for 6 -7 minutes

Add garam masala and stir

Add paneer and stir gently while it simmers for a couple more minutes

To finish, stir methi leaves into the sauce and season to taste

Serve with drizzle of cream, fresh coriander and a wedge of lime
Nutritional Notes from our Expert, Sue Camp
Anti-inflammatory foods can diminish inflammatory processes in the body via several different mechanisms and by including garlic, ginger and turmeric this recipe packs an impressive anti-inflammatory punch!
Garlic has been shown to strengthen the host immune system, stimulate the production of both white blood cells and anti-inflammatory molecules called cytokines, as well as inhibiting pro-inflammatory molecules. It also helps to prevent the depletion of glutathione, the body's master anti-oxidant.
Ginger has compelling anti-inflammatory properties; the phytochemicals in ginger inhibit the synthesis of molecules that promote inflammation. Ginger has been found to reduce inflammatory proteins, suppress the chronic inflammatory response, relieve neuro-inflammation and inhibit an inflammatory pathway called NF-kB. In both osteoarthritis and rheumatoid arthritis, ginger supplementation has been found to reduce inflammation and associated pain.
Turmeric is the source of the polyphenol curcumin which is the biologically active phenolic compound. It has been shown to modulate numerous molecular targets and exerts not only anti-inflammatory activities but also anti-oxidant, anti-cancer and neuroprotective. Increasing intake of curcumin through both diet and supplementation reliably reduces markers of inflammation and increases the levels of endogenous antioxidants in the body. Studies have shown a decrease in disease state or conditions characterised by inflammation associated with curcumin ingestion.
For more recipe inspiration take a look at this simple seasonal Wild Garlic Soup.