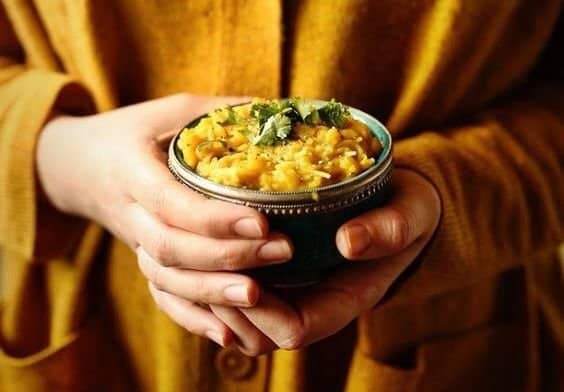 We can't get enough of easy, slow-cooked and comforting recipes at the moment, and this lentil dahl is no exception. Our recipe promotes the base, which can be enjoyed by itself, topped with fried shallots, mustard seeds and coriander, or stirred through with things like spinach, tomatoes or courgettes – it's also wonderful thinned into a soup with coconut milk and chunks of roasted butternut squash.
INGREDIENTS 
250g yellow split peas
1 white onion, finely chopped
2 cloves garlic, finely chopped
Splash of olive oil
1 tsp cumin
1 tsp turmeric
1 bay leaf
Vegetable stock to cover
METHOD 
Heat oil on medium-high heat
Add onion and garlic and cook until translucent
Add spices (inc.bay leaf), 1 minute
Add lentils, 1 minute
Cover with stock, bring to boil, turn down to a simmer and leave to cook for up to 1.5 hours (depending on how soft you like it), topping up with water if needed
Serve with fresh lemon juice, seasoning and fresh coriander
Nutritional Notes from our expert Sue Camp
Lentils are actually edible seeds from the legume family; they are usually categorised by their colour which can range from yellow and red to green, brown or black. Exceptions to this include Puy lentils which come from the French region Le Puy and beluga lentils which are black and look almost like caviar.
Lentils are a common food staple in Asian and North African cuisines, but may be under-appreciated in other parts of the world. They are an inexpensive way of getting a wide range of nutrients including B vitamins, iron, magnesium, zinc and potassium. They are also a useful source of plant-based fibre which can help with regular bowel movements and general digestive function. Soluble fibre forms a gel-like substance in the digestive tract that can help snare bile and help to carry cholesterol out of the body.  Lentils pack a valuable protein punch which helps to balance blood sugar. They are also full of polyphenols – plant chemicals linked to health benefits including cardiovascular health and diabetes prevention. Just a heads up on a possible drawback; lentils also contain lectins. These 'anti-nutrients' are carbohydrate-binding proteins which stick to cell membranes in the digestive tract. They resist being broken down in the gut and can contribute to digestive issues like nausea, stomach upset, diarrhoea, bloating and gas. They may also interfere with the absorption of minerals. Lectins are most potent in their raw state, and foods containing them are not typically eaten raw. Cooking, especially, boiling or stewing, or soaking in water for several hours, can inactivate most lectins. Lectins are water-soluble and usually found on the outer surface of a food, so exposure to water helps to remove them.