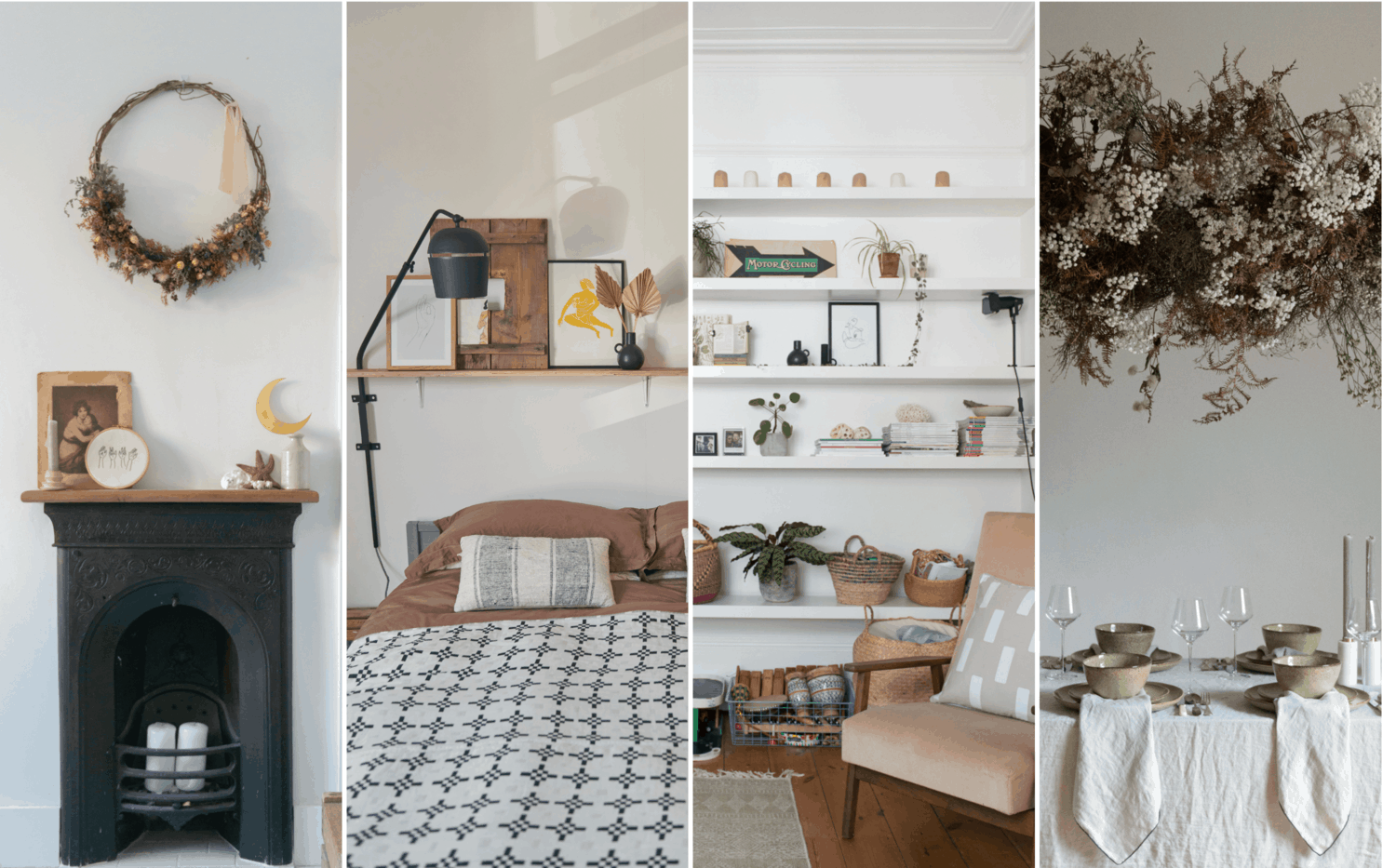 Winter Styling at Home
Hannah Bullivant, an interiors, product and event stylist, writer and blogger shares her tips with us to embrace winter in your home…
I think winter holds a quiet creative magic that flourishes in the darkness. I am not firing on all cylinders or beating myself with productivity. Rather, I am listening to my body and drawing inwards. Hibernating. Taking the time to think, dream, reflect and plan. In truth, I usually don't feel really energised and raring to go until Spring, but I love this season for the inside-ness of it, both figuratively and literally. The inner planning and dreaming. The fertile darkness, the quiet and the cosy indoorsiness of it.
Add Greenery
Greenery isn't just for Christmas. Put some evergreen leafy branches around your home in honour of the season outside and as a reminder of the life to come. For an added sensory bonus, make sure you use bundles of freshherbs like rosemary, thyme and eucalyptus.
Make a Feature of your Fireplace
If you have a fireplace or mantlepiece, highlight it in your space by adding lush foliage and lots of candles. Drawing the eye to the cosiest part of the home will instantly make you feel cosier too.
Add Winter Flowering Bulbs in your Home
Paperwhites, Cyclamen, Narcissi and Hyacinth are my favourite bulbs to bring indoors in January. It feels miraculous to be treated to delicate scented flowers in the depths of winter; a miracle I wish upon you all! I put them by the front door, in the bathroom and next to my bed. You can pick up these bulbs online at any garden centre and most supermarkets.
Fancy Candles
There has been a huge surge in the popularity of fancy shaped candles from simple twists to really elaborate designs. Treat yourself to some gorgeous shaped candles for your home, and they also double as sculptures. Win win!
Introduce Rich Warm Textures and Colours
Wherever possible add rich, sumptuous textiles. Add a blanket to your office chair, or the arm of a sofa. Drape a sheepskin over the kitchen chairs. Add a rug beside your bed. Shop your home for these items, you'll have more than you think.
Maximise the Light
You want as much cosy, glowy lights as you can in winter during dark evenings and mornings, But you also need to maximise what light does manage to make it way into your home. The easiest way to do this is to add mirrors, and make sure your window treatments are not obscuring too much of the light in your room.
Have a House Switch Around/Declutter
The dark winter months are an ideal time to focus on your home and make changes to clear and honour it.
Fluff your Nest
Don't fight your bodies natural desire to hibernate! Embrace it. Take action, however small, in your home to make it a cosy retreat.
Firewood Chic
Even if you don't have a working fireplace, a stack of pretty logs can make a gorgeous statement in the sitting room.
Don't Take the Fairy Lights Down Just Yet
It's tempting to put away any and all trace of Christmas fairly quickly but I implore you to leave some fairy lights up for a bit longer- perhaps even until Spring.
Candle Lit Porridge
Place candles around your home, and light them when you're in the room. Candles at breakfast is a sweet way to make dark mornings a little more magical.
Branch Branch Braaaanch!
I display beautiful branches in my home all year round, but Winter is a particularly good time to bring a branch inside! Start looking out for fallen branches, put them in a heavy bottomed vase or jar and you can thank me later.
A Paint Project?
Whether you rent or own, is there a painting project you've been thinking about? A room or a piece of furniture? Could January be a good time to order those samples and get going? Just remember that paint samples should be LARGE- the full sample bottle, and it should be painted onto a large piece of paper NOT the actual wall. That way you can move it around and see how it looks in different lights, without getting confused by lots of neighbouring samples on the wall.
Rug Love
Now is the time to invest in a rug for your home, if you don't already have some. Ideally, rugs a should be big enough to connect all the furniture in your space or at least some of it, rather than floating in the middle of the room. Or gather them together into a patchwork. These are tips from my Fresh Nest E-course, and I have another: to get a large rug cheaply, find a piece of carpet you like and ask the carpet company to professionally edge it for you.
You can find Hannah here and for more interiors tips take a look at Hannah's How to Own Your Interior Style Workbook.