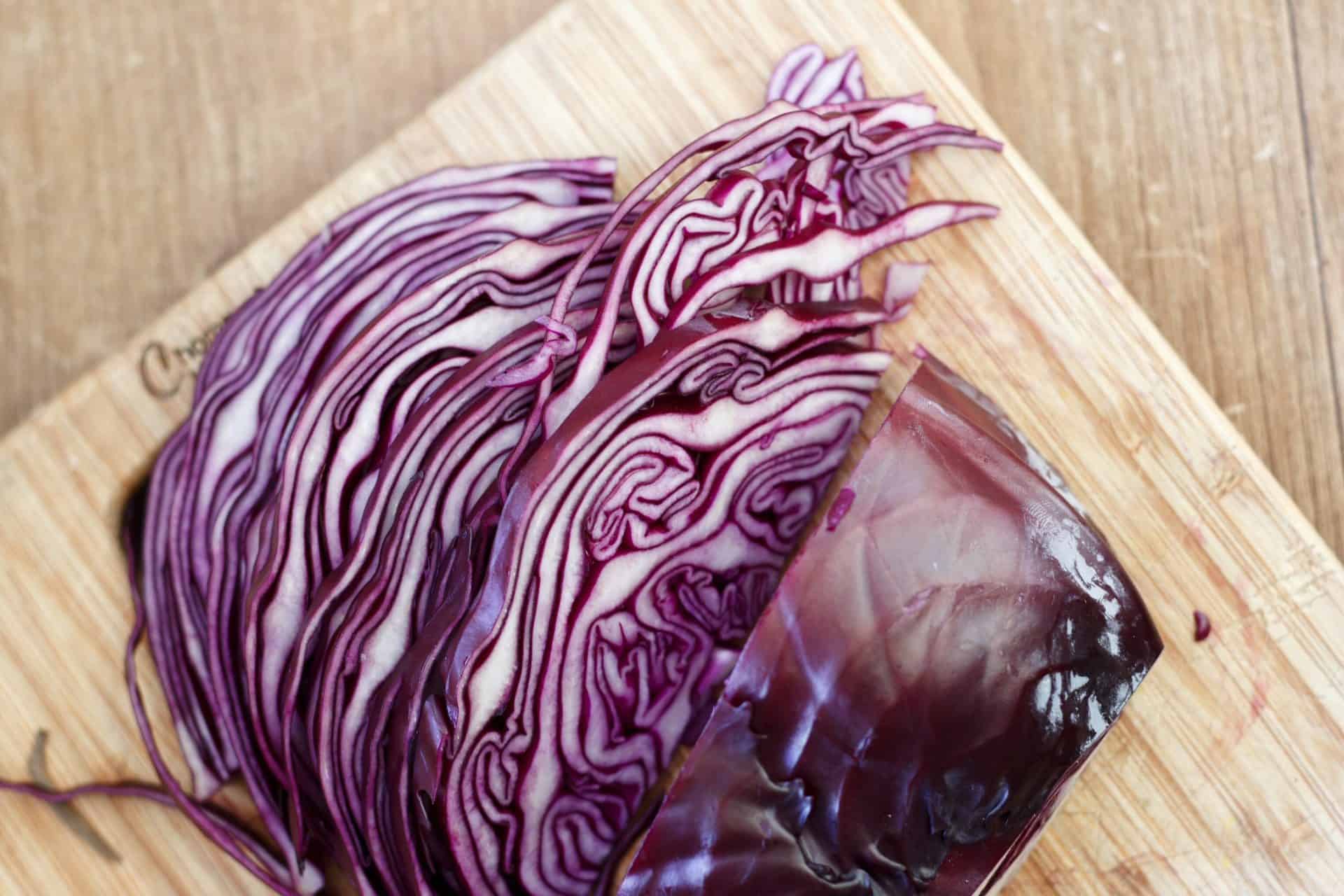 It's that time of year when hints of spring are everywhere and yet we're not quite there yet. If you try to eat both locally and seasonally, it can be a challenge to find much colour on the plate, except for plenty of dark greens and root veg. Never fear though, as the mighty cabbage is your friend showing off in all shapes and sizes at this time of year. Particularly the stunning blue-purple leaves of a tightly packed King January cabbage that tastes wonderful cut into quarters and roasted with a little salt and oil. If it's colour on the plate you're looking for, you'll want to turn your attention to the red cabbage with its vibrant pink-purple shade and glossy leaves. We're talking about gut health this month and how to be good to your gut and there's nothing simpler to add to your diet than the goodness of sauerkraut, with its probiotic power that feeds the gut with healthy bacteria, helping to fight inflammation. It's also a wonderful source of vitamin C, which is crucial in fending off colds and viruses, and is also full of fibre. 
To make your own sauerkraut, all you need is a large head of red cabbage – around 800g once you've removed the core – and two tablespoons of salt. You will also need a large, sterilised jar and something to rest on top of your cabbage to weigh it down and keep it submerged. 
Ingredients
800g of finely sliced red cabbage
1 whole red cabbage leaf
2 tbsps salt
Method
Add your finely sliced red cabbage to a large bowl and add the salt. Massage the salt thoroughly into the cabbage, pressing as you go to release the liquid from the leaves. This will take around 10 to 15 minutes to really extract the goodness. Pop a timer on your phone, or listen to three or four of your favourite songs until you're done. 
Add the red cabbage to your clean, sterilised jar in handfuls before pouring the liquid over the top. Push and pack down before laying a whole cabbage leaf over the top to cover. Add a small weight or glass that will help keep the cabbage submerged in the liquid as much as possible. Place the lid on top, though slightly ajar to allow gas to escape. 
Put the jar in a cool, dark place for up to three days – the longer you leave it, the tangier it will become, if you prefer it that way. Check on your sauerkraut every day to ensure it is submerged and to 'burp' some of the gas from the jar if it has built up. When it is to your liking, decant into smaller sterilised jars and place in the fridge. Enjoy as you please!
Notes
Sauerkraut can be enjoyed in a number of ways, such as:
On top of hummus and toast 

With jacket potatoes

Within a salad

In a sandwich

On top of a buddha bowl 

On top of burgers

From the jar with a spoon!