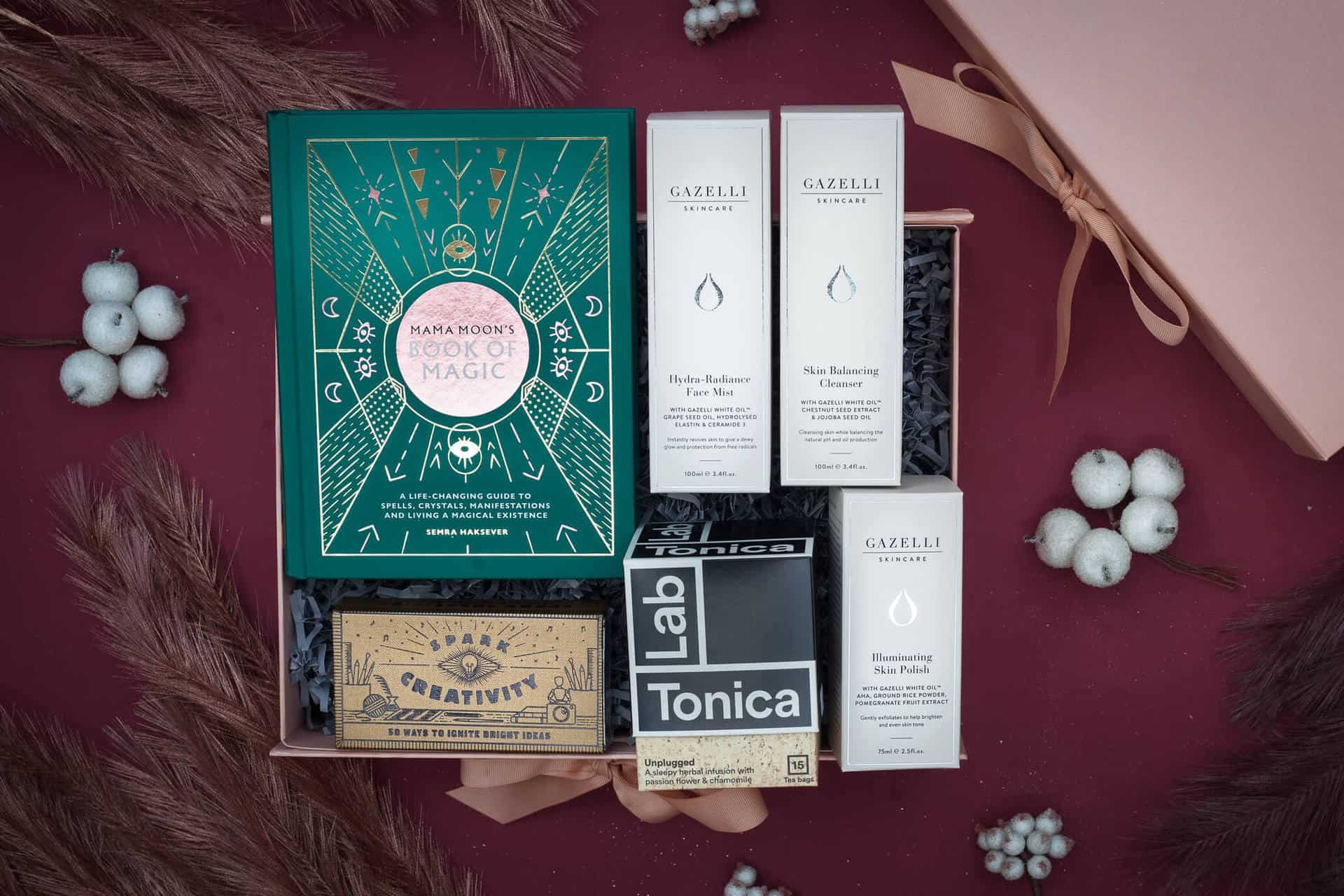 The Ultimate Gazelli Gift Guide
Welcome to our definitive guide to gifting wellbeing this Christmas, for the different types of loved ones in your life. Don't forget, if you're new to shopping with us, you can sign up for Gazelli Rewards to receive £5 to spend straightaway, and continue to earn points as you spend and redeem as you accumulate them. If you're in the capital, do come and visit us at Gazelli House 174 Walton Street (the nearest tubes are South Kensington or Knightsbridge) and have a look around our London Wellbeing Shop for yourself. We'd love to welcome you inside from the cold, make you a marvellously medicinal hot latte from our new wildcrafted drinks menu with Anima Mundi, so you can shop in peace, quiet and comfort.
Gazelli Gifts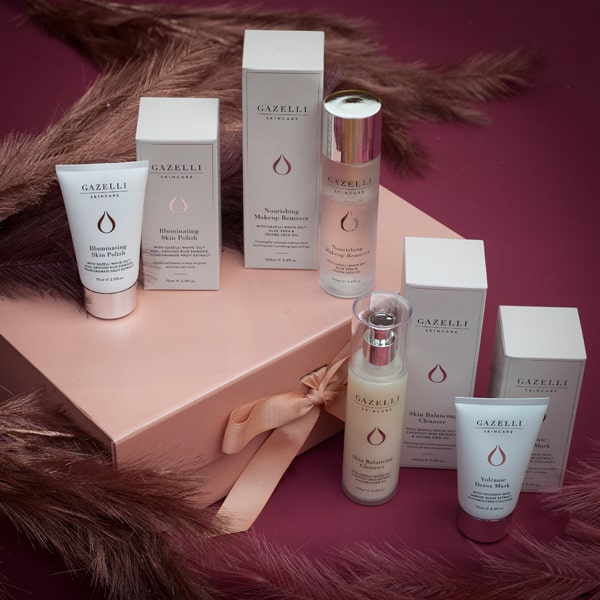 Explore our shortlist of Gazelli gifts, including two incredible value gift sets worth over £140 at unmissable prices. We have added a few of our most gift-able treatments, though also offer a Digital Gift Card that can be redeemed against whatsoever the receiver wishes.
For spiritual souls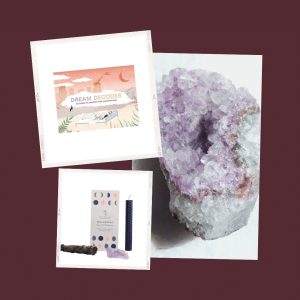 The Inner Beauty Bible is a wonderful debut book from our friend Laurey over at the Colourful Dot. She often curates collections of crystals for us, though they sell out fast.  In this book, howvever, she shares her wisdom on how to feel from within using the power of crystals, the mind and more – a wonderful gift for those just embarking upon their spiritual journey. Jennie at Eve & Keel makes stunning rollerballs filled with essential oils and infused with crystals, designed to match your chakras, working with them to elicit more of what your loved one (or yourself) may need such as courage, creativity or intuition. Should you wish to combine both crystals and oils, you might want to check out Katy at the Owl and Apothecary's lovely little ritual kits.
For creative minds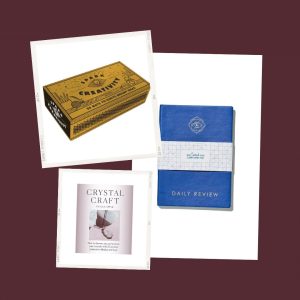 The fiercely passionate Rachida at Rama Publishing creates all of her products with colour, style and practicality in mind. Her leather bound planners are just that and make a neat present when wrapped up with a bow. For those that love to keep the mind alive, be sure to browse our 'Spark' boxes, which are filled with different prompts for things like creativity, romance and more. If you're looking for a gift that's a little less active and a lot calmer, take a look at our mindful colouring books, such as Yuko Higuchi's Magical Colouring Museum.
For Creatures of Comfort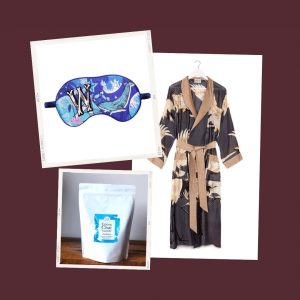 At our wellbeing shop in South Kensington, one of our most popular gift items has to be our Jessica Russell Flint silk eye masks that come in an assortment of bright and wonderful patterns, adorned with a letter from the alphabet so you can pick for your friends! They're soft and smooth and great for a good night's sleep. Also incredibly popular are our robes, scrunchies and loungewear from One Hundred Stars, patterned with the prettiest of botanical prints. Add a soothing candle and a steaming mug of Mira Manek's family chai, and you've got yourself not just a gift, but an entire experience.
For Skincare Fanatics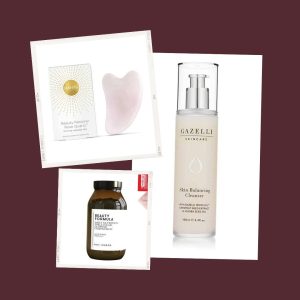 While we may be biased, we do believe that our own Gazelli Skincare range is so good that everybody has to try it, which is why we've created a gift set with our 'heroes' at an unmissable price of £85 (usual RRP is over £143) which is ideal for skincare lovers who like to try new brands. Other great ideas for the skincare lover are our skincare tools from award-winning Hayo'u and a brand that has just emerged in the UK called 'Metaskin' who offer brilliant facial cupping sets.
For Book Worms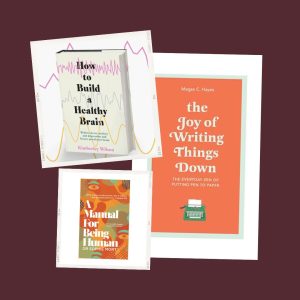 Our family of authors continues to grow, with some brilliant titles this year that we can't recommend enough. From Dr Megan C Hayes' 'The Joy of Writing Things Down', to Dr Sophie Mort's 'A Manual for Being Human' or the timeless 'Self Care for Tough Times' from Suzy Reading, there's a book gift for every voracious reader.
For Ayurvedic Goddesses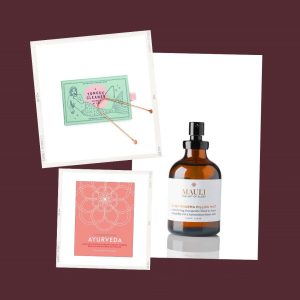 We're lucky enough to have some of the best names in Ayurveda, including Mauli Rituals, Anala and Cosmic Dealer, all with a different approach to this ancient system of medicine. Mauli Rituals NEW Sleep Dharma range is amazing for helping you relax – their pillow mist is a lovely little stocking filler, while their bath and shower oil is luxurious as a main gift. Speaking of luxurious, Anala's Morning and Evening Oils are absolutely beautiful, hand blended from the highest quality flower oils. For super cool, Cosmic Dealer has it covered with their everyday tools and treats, wrapped up in the most incredible packaging.
For the Indulgent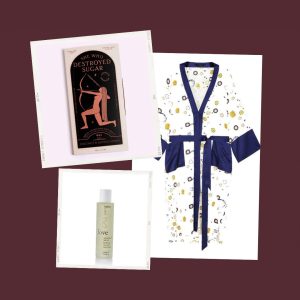 Is there anything more indulgent than oil? We're so in love with a good oil that we just launched a whole NEW treatment with Kalmar in which the receiver is immersed head-to-toe in a highly fragrant oil experience and sensory massge, aligned with the emotional state of being they wish most to cultivate (Love, Joy, Peace or Calm).  These oils are also available as gifts and make a beautiful package when combined with a bar of Cosmic Dealer's single origin chocolate or, once the oil has absorbed into your skin, a silk robe from Jessica Russell Flint.
For Wellness Warriors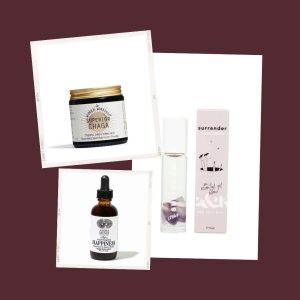 We're thrilled to be one of the very first stockists of Anima Mundi Apothecary in the UK. Their range and brand is just amazing and fills a much-felt gap in the market for marvellous natural medicines. From tinctures, to tonics, and powders. The packaging is unique and elegant and, we think, makes an eye-catching gift for anyone who loves to try something new and alternative in wellbeing. We also stock tried and tested EQUI supplements, which we can't recommend enough and a range of turmeric-filled products from Tom and Zoe at Wunder Workshop – we particularly recommend their Turmeric CBD for its potency, quality and the added anti-inflamatory benefits of turmeric.